End of Week Message: Another Record-Breaking Year for CPS Students
03 November 2023
Dear CPS Families, Colleagues, and Supporters,
Earlier this school year, I shared that our K–8 students are showing considerable growth in both reading and math as they continue to recover academically from the COVID-19 pandemic.
This week, I had the privilege of delivering some amazing news about our 2023 graduates, who continue to reach new heights and break records.
Record Graduation Rate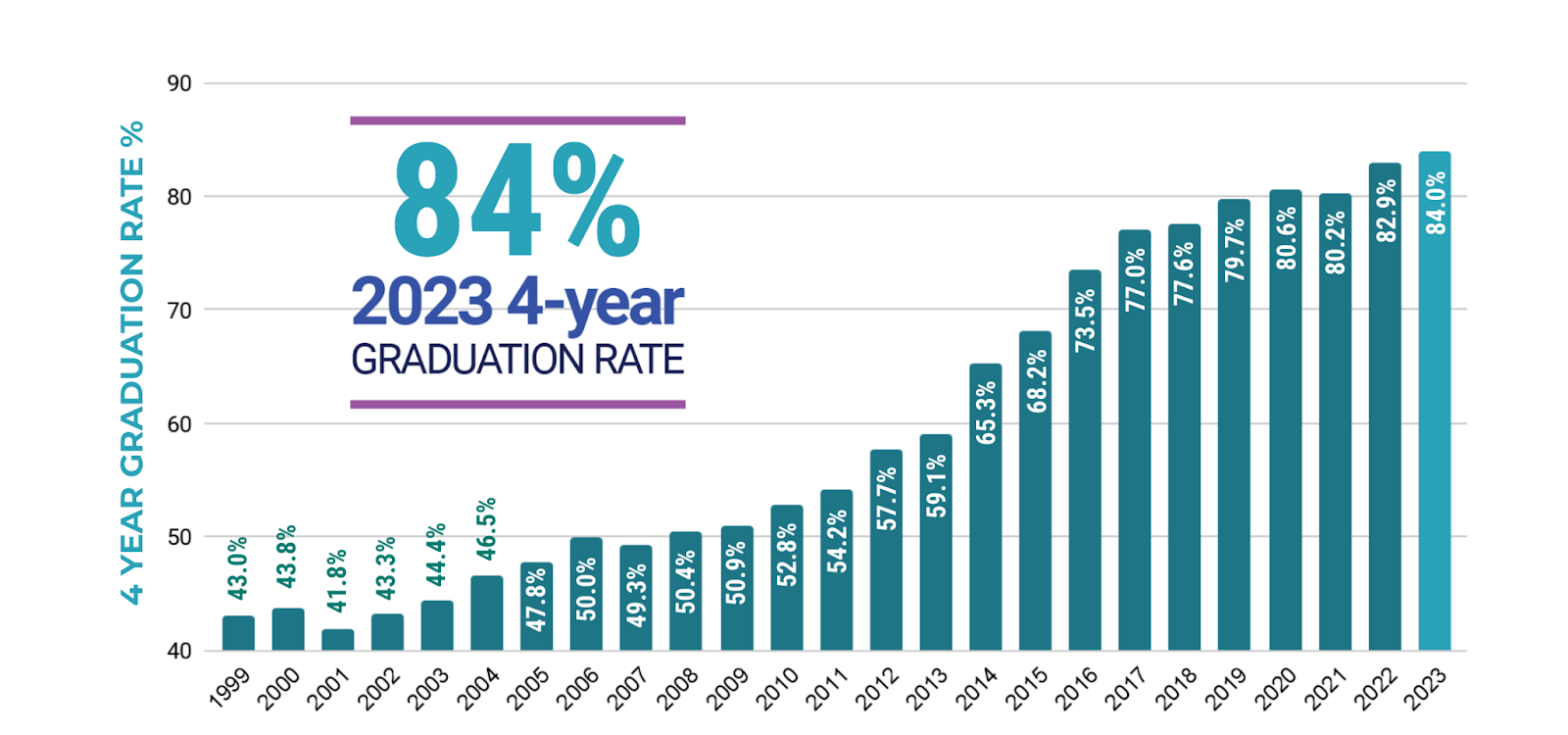 The Class of 2023 has set a new record for our four-year graduation rate—84 percent! The District's graduation rate has more than DOUBLED since 2001—an incredible achievement for our students, our district, and our city.
More Graduates Enrolling in College

I was also excited to share that the percentage of graduates enrolling in college has climbed significantly, growing by 50 percent since 2004. These days, around two out of every three CPS graduates (65.2 percent) enroll in college—up from 43.5 percent less than two decades ago.
Record Scholarship Earnings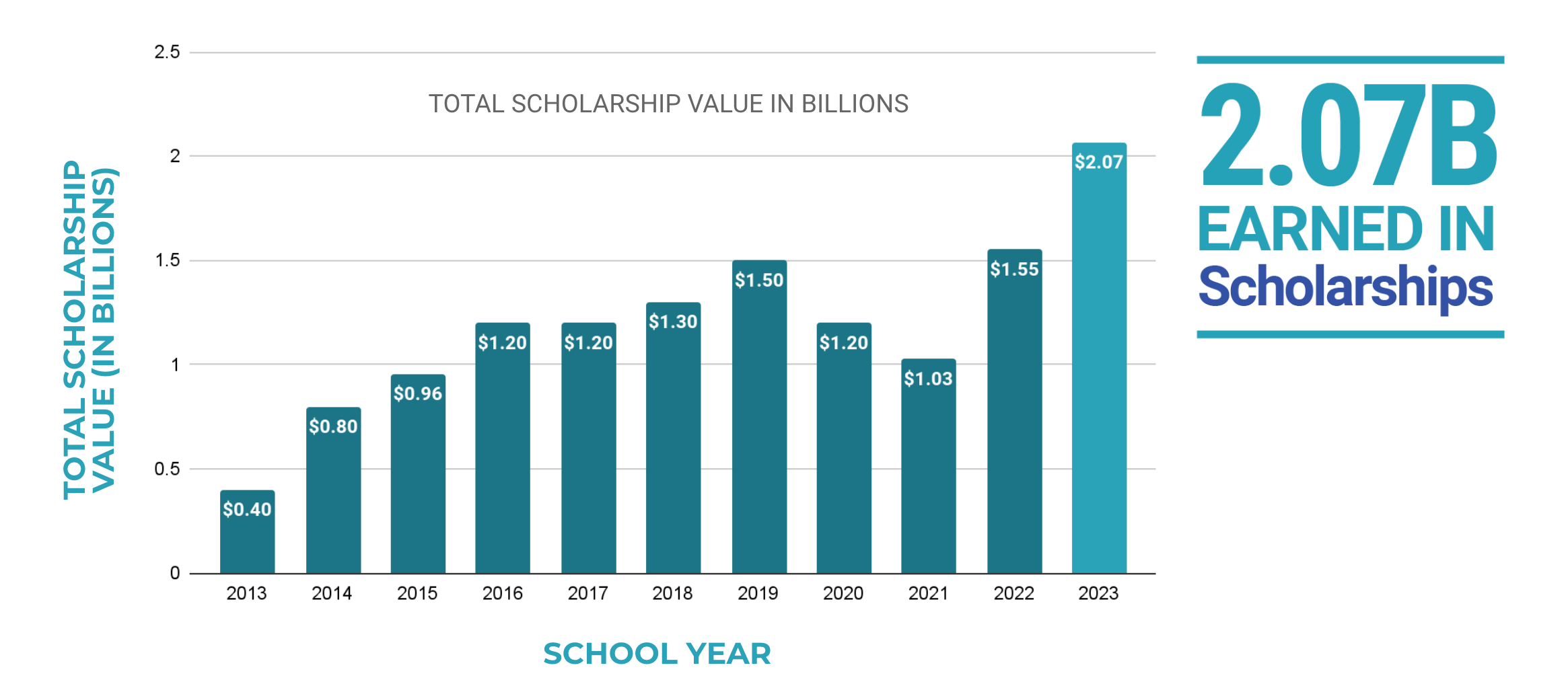 As more graduates enroll in college, they're earning more scholarship dollars than ever before. Our Class of 2023 graduates earned a whopping $2.07 billion in scholarships, helping to ease the burden of paying for higher education.
Second-Lowest Dropout Rate on Record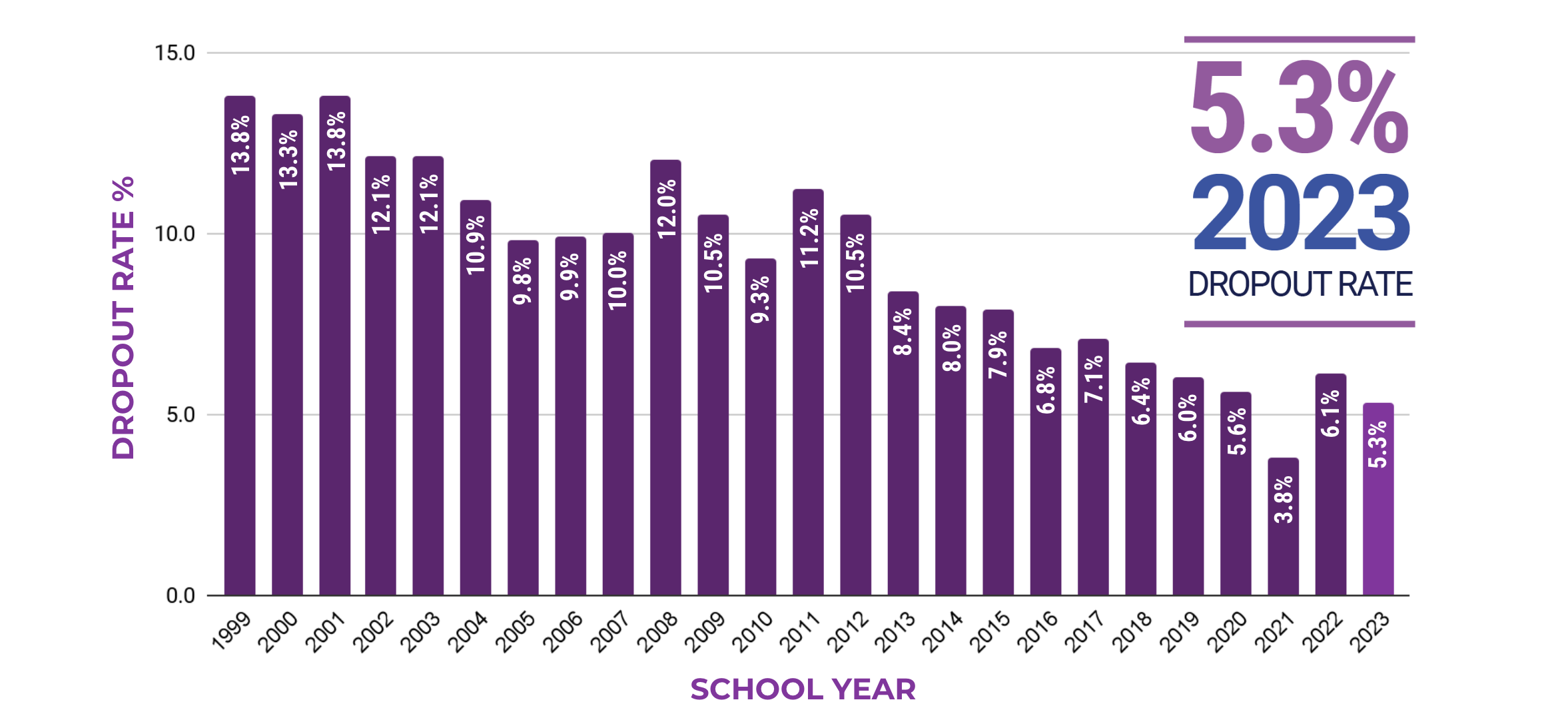 While graduation rates, college enrollment rates, and scholarship earnings have risen, dropout rates have fallen. Our dropout rate of 5.3 percent is the second lowest rate on record, meaning that more students are staying in school, learning, growing, and thriving.
Almost Half of CPS Graduates Earn College or Career Credentials in High School

Finally, I was proud to share that just under half of all graduates leave CPS with more than just a diploma—49.1 percent of 2023 graduates earned at least one career or college credential while in high school. Students at CPS have the ability to earn college or career credits through a variety of programs, including Advanced Placement (AP), International Baccalaureate (IB), dual credit, dual enrollment, JROTC, Career and Technical Education (CTE), and Seal of Biliteracy.
Celebration at Dyett High School Featuring U.S. Secretary of Education Miguel Cardona, Chicago Mayor Brandon Johnson, and CPS Alumni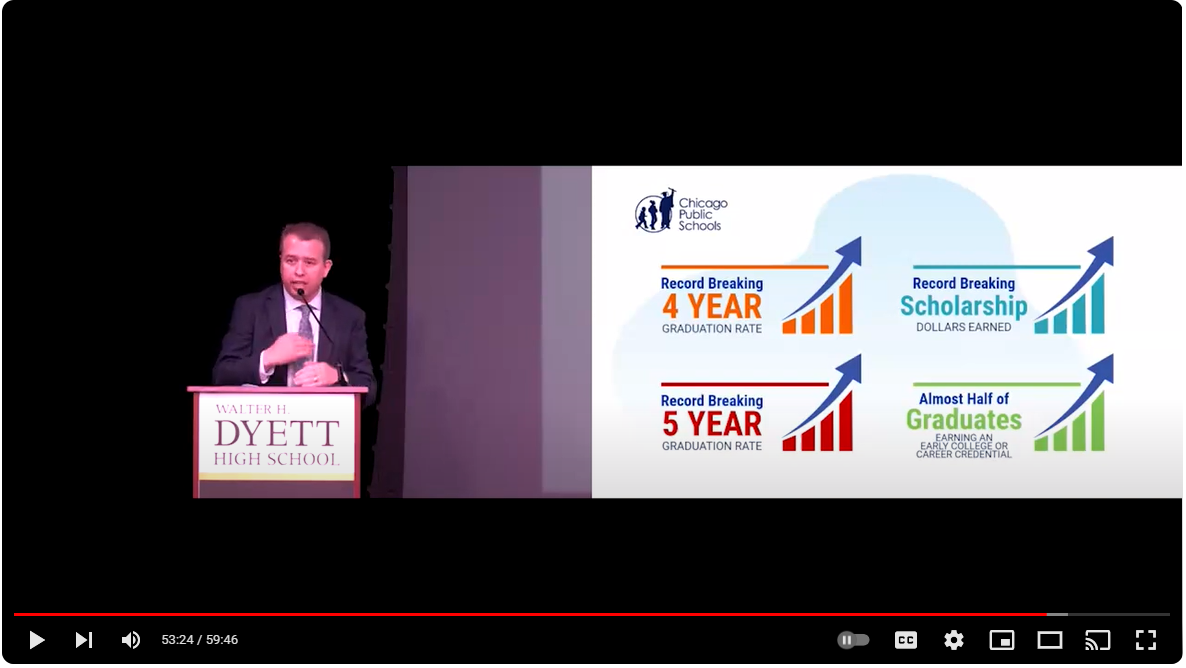 I was proud to share this exciting news at Walter H. Dyett High School on Chicago's South Side. You can watch the video of the entire event on our YouTube channel here.
The event featured a virtual appearance by U.S. Secretary of Education Miguel Cardona who praised CPS for our strong academic recovery since the COVID-19 pandemic and tremendous growth in high school and postsecondary achievement. Click here to view the Secretary's remarks.
I was also delighted to be joined by Mayor Brandon Johnson and other District and community leaders who gathered to celebrate the success of our students. Click here to view the Mayor's remarks.

Finally, we were joined by four CPS alumni who shared stories of how their experiences with IB, dual-credit, and CTE programs helped prepare them for success in college and career. Click here to view remarks from CPS alumni.
How We Got Here
First and foremost, these impressive gains reflect the hard work of our students, and the drive, dedication, and creativity of our talented teachers, counselors, and other school-based staff. They are also the result of the intentional investments CPS has made to support students as they explore, prepare, and launch their postsecondary plans. These include:
Expanding equitable access to AP courses, IB programs, dual-credit and dual-enrollment opportunities, and CTE.
Increased advising and support through our growing number of school counselors, college and career coaches, and Post-Secondary Navigators.
Exposure to work-based learning opportunities through a growing network of industry and community partnerships.
Transitional courses in English and math to help prepare students for the rigor of college coursework.
Continued engagement after high school graduation through programs like our Alumni Support Initiative, which provides recent graduates with mentoring to help keep them on track, and the College Compact Initiative, which brings CPS together with institutions of higher learning so that we can collaborate around providing more equitable outcomes for our students.
Moving Forward with Purpose
Excited as we are by our students' gains, we know that this is not the finish line. There is still a lot of work to do, especially when it comes to eliminating the achievement gaps that remain for our black and brown students. This will include our continued partnership with Equal Opportunity Schools, a nonprofit that works to increase equitable enrollment in programs that provide early college and career credentials, and the expansion of additional pathways that help prepare our students for success in college and career.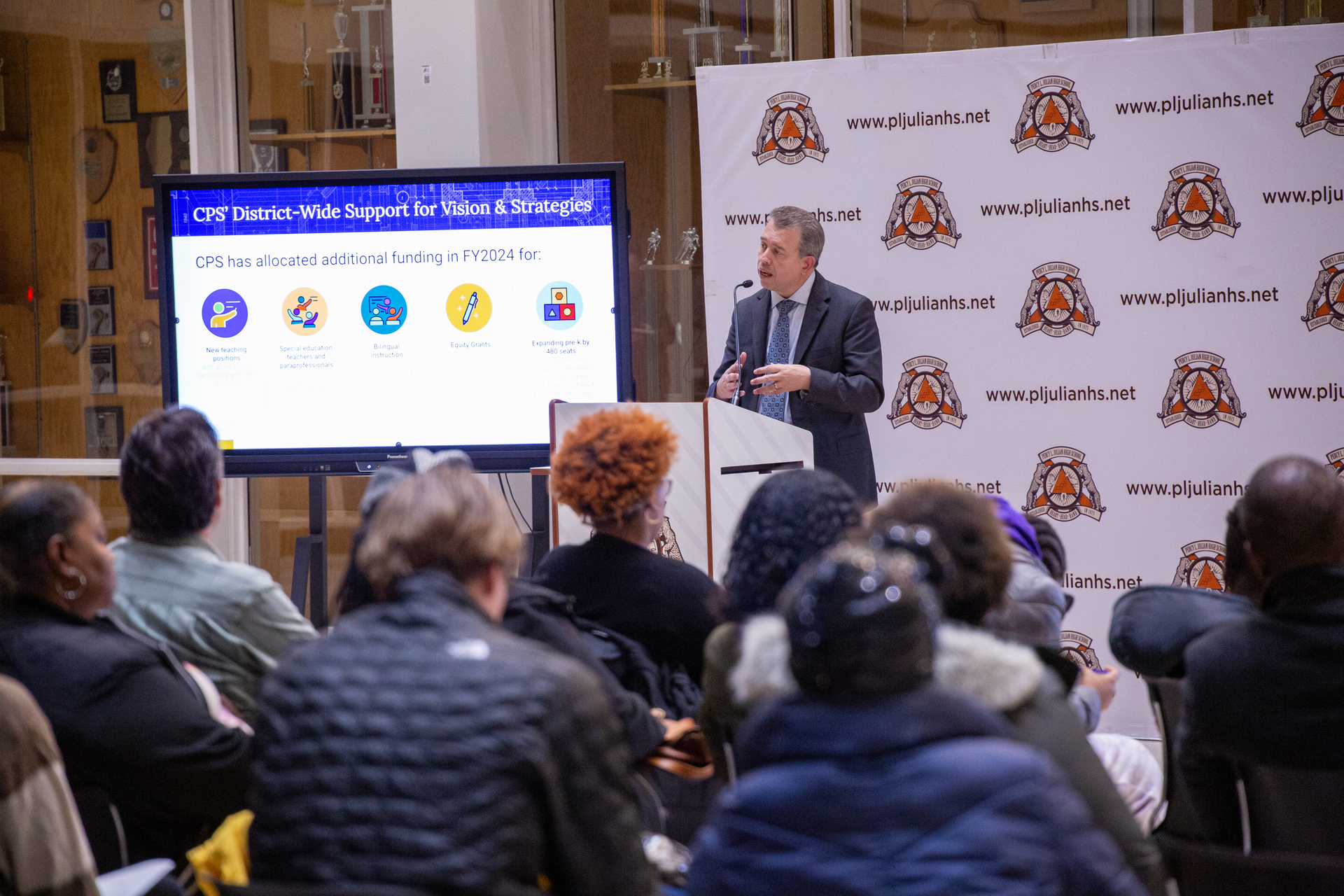 Our District now has an excellent foundation upon which to build, but we can't do it alone. We need the voices of our CPS community to help shape a plan that will propel us forward, especially as we begin discussions around our District's next strategic plan.
Over the next two months, CPS will be hosting more than 20 opportunities for families, educators, and community partners to learn more about the District and share feedback that CPS can use to make critical decisions moving forward.
Budget Community Roundtables: Over the next two weeks, we will host five roundtable events to provide important information about school funding and give everyone in our CPS family the chance to share feedback on the priorities they want to see funded. Register for a session here. Roundtables will offer live Spanish and ASL translation.
Facilities Community Roundtables: From November through January, CPS will host 17 neighborhood-specific roundtable discussions regarding our school facilities. Families and staff will be able to collaborate and share their thoughts on how the District should prioritize repairs, construction projects, and overall investments in our school buildings. See the full schedule on the CPS website to find a session in your area (or join our virtual session). Register for one of the sessions here. Roundtables will offer live Spanish and ASL translation.
I encourage all families, staff, and community partners to attend one of these upcoming engagement sessions so that you can lend your voice to this important work, and help us put a plan in place to keep our District moving in the right direction.
Sincerely,
Pedro Martinez
Chief Executive Officer
Chicago Public Schools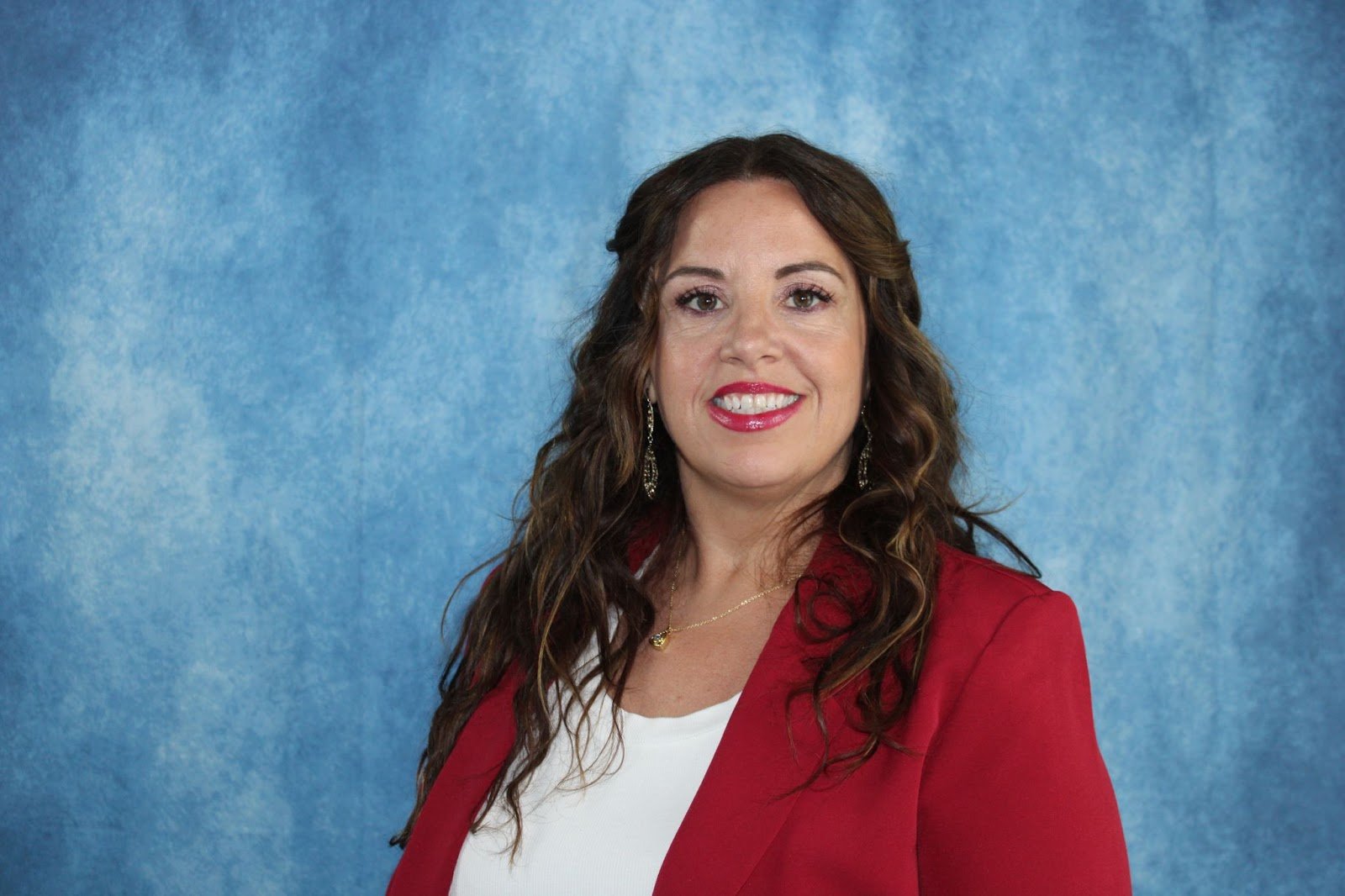 Take Five is a series that highlights some of the many members of the CPS community who are going above and beyond for our schools.
This week, we are excited to introduce Dawn Ramos, principal of Edward Tilden Career Academy High School. Principal Ramos is best known for being student-centered and community-driven, and has also been recognized as one of the District's Principal Game Changers for 2023.
Principal Ramos describes her "secret sauce" as humanizing the educational experience for all students and staff by ensuring people feel cared for, creating an environment where all have agency, and challenging systems and beliefs to effectively do what is right for children.
How has your experience as a former CPS student impacted your work as a school leader?
My experience shapes how I lead and work to develop relationships within my school community. When I was a student myself, I made many connections with other children, yet, I made very few connections with the majority of adults I had access to. I want students at Tilden to know I care and see who they are as individuals. I have witnessed firsthand the differences that exist between how schools are labeled, so I strive to ensure my students and staff feel a sense of pride and belonging that goes beyond a school's label.
Read more of our Q&A with Principal Ramos here.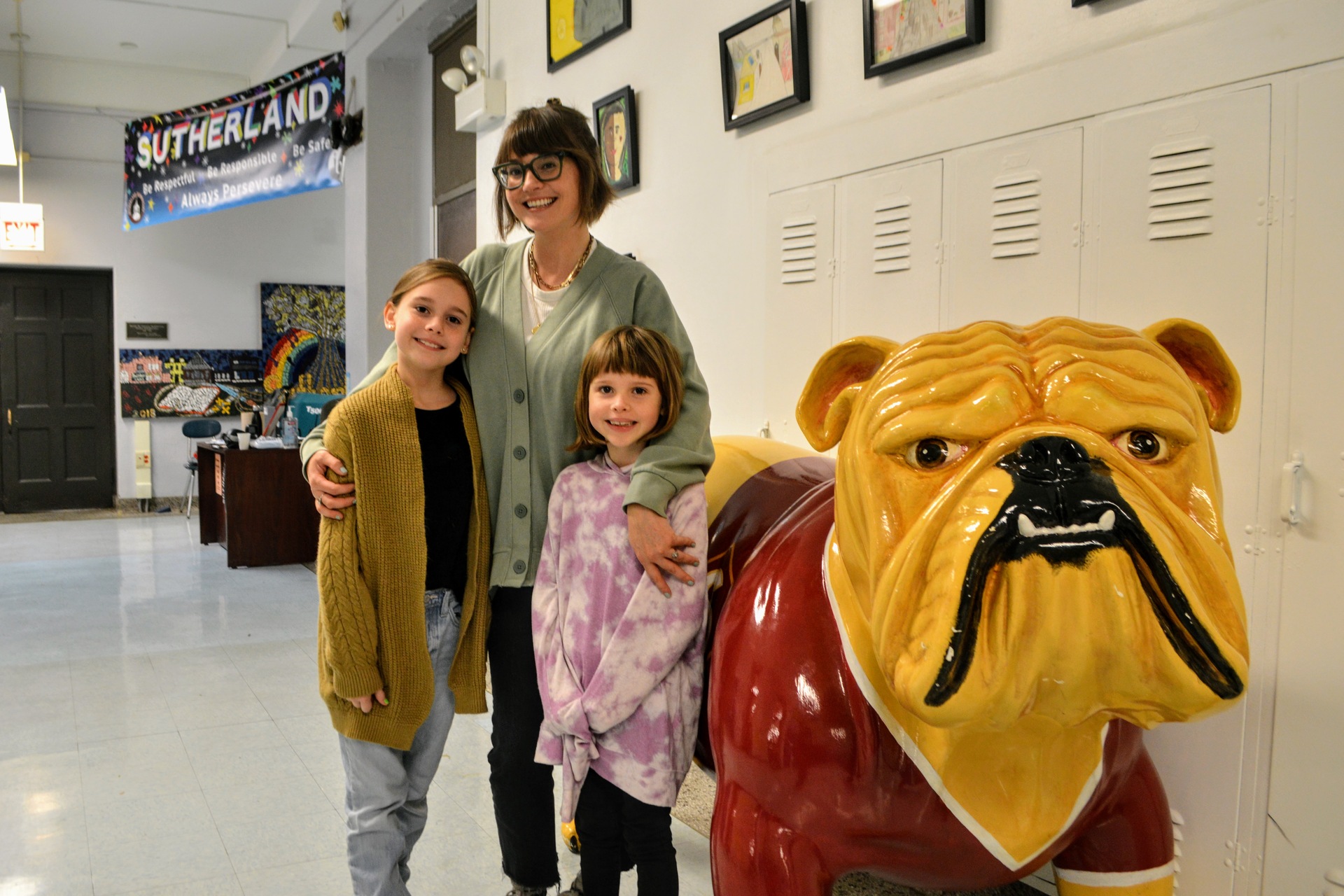 Staff and Student Spotlights
This week, we're highlighting CPS educators whose children attend the same school where they teach. At Sutherland Elementary School, second-grade teacher Ms. Tess Haskins has a special connection to the school—she attended Sutherland herself starting in the sixth grade. Now, her daughters Louise and Cece attend the school. One of the reasons that Ms. Haskins wanted them to attend Sutherland is the diversity that the school embraces.
A few miles southeast of Sutherland, Colemon Academy has terrific staff members such as Mrs. Fox and Mrs. Jackson. Between the two of them, they have three sons currently at Colemon. They have gotten to know their colleagues and appreciate that they take care of their children so well. With their sons all enjoying math and science, they look forward to working closely with their fellow educators this school year to build their interest in reading.
A Look Around the District
Take a look at some highlights from schools around the District!
Virtual Academy Elementary, located in Little Italy, celebrated the Halloween season with its second annual, in-person "Spooky Extravaganza." The school community enjoyed an afternoon of fun games and activities, costumes, and delicious treats.
At Morrill Elementary, in the Chicago Lawn neighborhood, students recently created a video recap of the school's Hispanic Heritage Month activities, which included musical performances from North-Grand High School's student-led band. Check out the video here!
McPherson Elementary in Ravenswood celebrated its Enchanted Enrichment Trunk or Treat. PreK- 5th-grade students collected candy at decorated cars and participated in various activities, from slime making to learning about "enchanted plants," with the help of 6th- 8th grade IB Middle Year Program student volunteers.
Nichole Madera, lead coach at Robinson Elementary in the Oakland neighborhood, recently represented CPS educators on the show Wheel of Fortune, where she took home the jackpot prize!
At Coonley Elementary, located in the North-Center neighborhood, the school community celebrated Hispanic culture and Dia de los Muertos with a flamenco performance, arts and crafts, Loteria, an altar, and a Food Truck!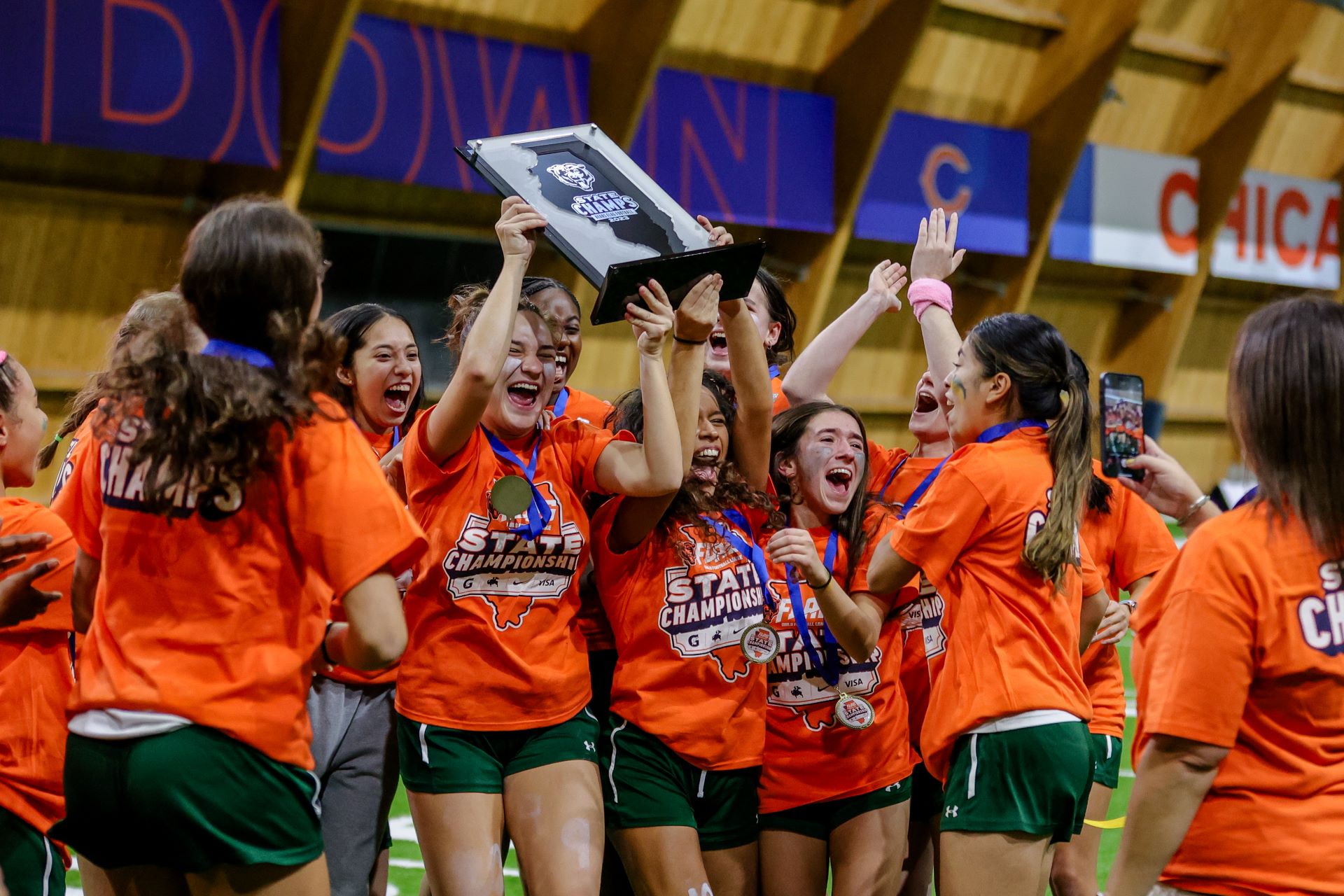 CPS High Schools Square Off in Flag Football Championship
The 2023 high school girls flag football season concluded with fantastic CPS representation at the Second Annual Chicago Bears State Series. After competing in the Chicago Public League Championship, Lane Tech (CPL champions) and Phillips continued their seasons in the Chicago Bears State Series against teams from across the state, including the defending champions from suburban Willowbrook. Phillips and Lane proudly represented CPS and found themselves in a rematch of the CPL championship game in the state final! We congratulate Lane Tech on capturing the state championship, and Phillips on their runner-up finish! While the Bears have crowned the last two state champions, the goal is for flag football to become an official IHSA sport in 2024.
GoCPS Deadline of Thursday, November 9 Now Approaching
GoCPS is our District's portal where families can explore educational options for their children. All students are guaranteed a seat in their neighborhood school, but for those families who may want to consider additional program opportunities, we urge you to explore GoCPS from now through the application deadline of November 9, 2023 at 5 p.m.
Families with students who will be entering grades K–9 in the 2024–25 school year can apply for a wide variety of academic programs. A complete list of these programs is available at cps.edu/gocps.
From our neighborhood schools to our programs specializing in STEM, the arts, dual-language, and much more, CPS has programs to meet the unique needs of every child. Explore these options and apply at cps.edu/gocps.
Updated COVID-19 and Flu Vaccines Now Available Through CPS
CPS is now offering updated flu and COVID-19 vaccines, along with mandatory vaccines required for school, to our students through vaccine events and Student-Based Health Centers. Because we have received a limited supply, we are prioritizing these no-cost vaccines for students who are uninsured, under insured, or get insurance through Medicaid. Families can visit cps.edu/vaccines for more information and to make an appointment.
Because our supply is limited, we are focusing solely on vaccinating our students right now. For staff, parents, and guardians who are uninsured, under-insured, or get coverage through Medicaid, we encourage getting a vaccine through a federally-qualified health center, or a clinic or vaccine event run by the City of Chicago. You can find a list of these local events at chicago.gov/covid. We also urge families and staff who are privately insured to reach out to their health care providers about these vaccines.
For complete details regarding COVID, flu, and other vaccines, please visit cps.edu/vaccines.
Important Information for Families Receiving Medicaid Benefits
All families who receive Medicaid benefits must renew them annually. The State of Illinois is currently mailing renewal forms on a rolling basis. The envelope will look like this:

Once you receive your renewal form, please fill it out and send it back as soon as possible to ensure that your family does not lose Medicaid coverage.
You can also renew your benefits online. Visit abe.illinois.gov and click "Manage My Case" to log in to your account. A step-by-step guide to renewing your benefits either by mail or online can be found at cps.edu/medicaid.
If you need assistance, you can call the Healthy CPS Hotline at 773-553-KIDS (5437) or fill out an assistance request form, and a coordinator from the CPS Office of Student Health and Wellness will be happy to assist you.
Important Dates
For more upcoming events around the District, visit cps.edu/calendar.
Friday, November 10: CPS schools and offices are closed in observance of Veterans Day; no classes for CPS students.
Monday, November 20–Friday, November 24: CPS schools are closed in observance of the Thanksgiving holiday; no classes for CPS students.
---
Estimadas familias, colegas y simpatizantes de las CPS:
Este año escolar compartí que nuestros estudiantes de kínder a octavo grado están demostrando un considerable mejoramiento en matemáticas y lectura mientras continúan recuperándose académicamente de la pandemia de COVID-19.
Esta semana tuve el privilegio de compartir unas fantásticas noticias sobre nuestra clase graduanda del 2023, que continúa alcanzando nuevas alturas y batiendo récords.
Tasa de graduación récord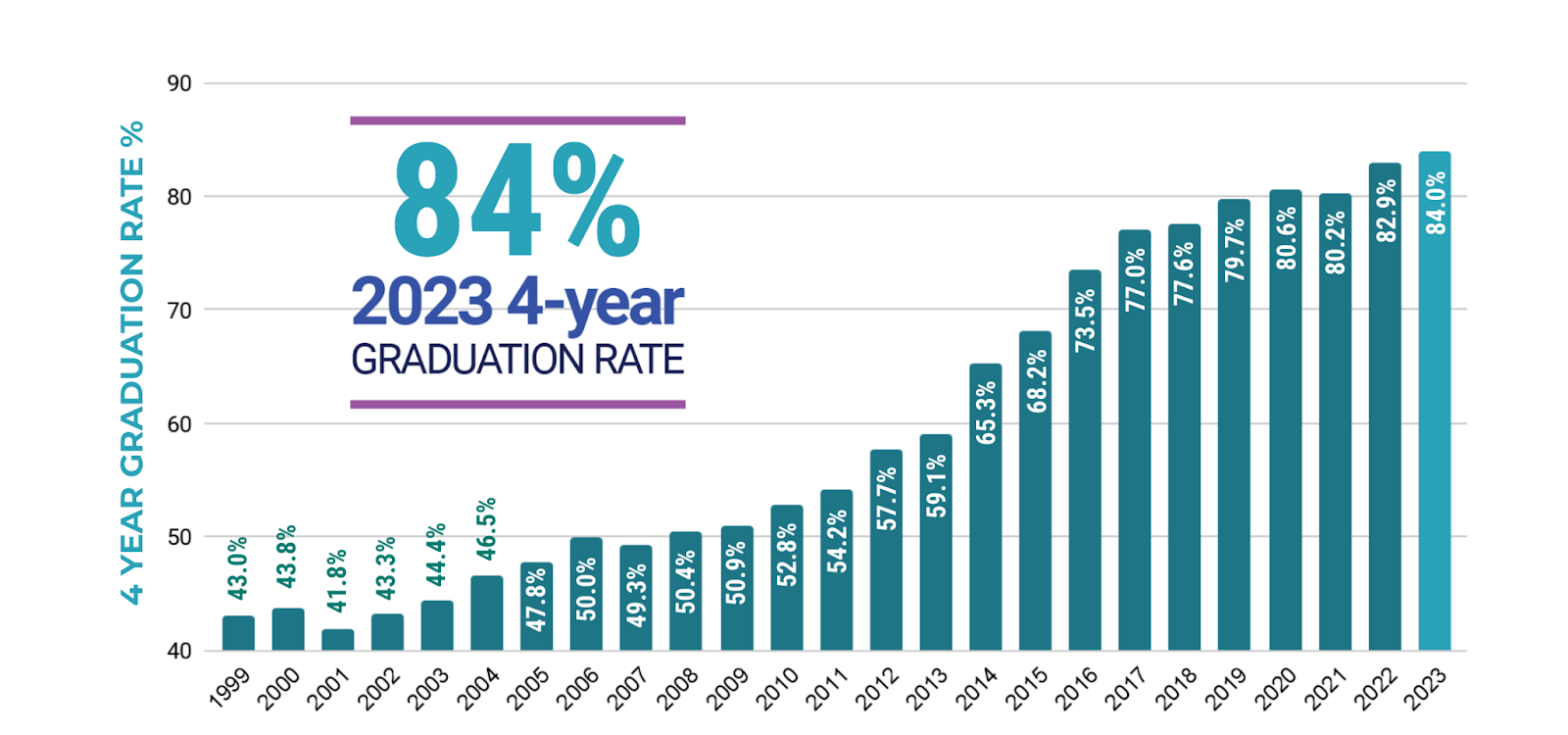 La clase del 2023 ha establecido un nuevo récord en cuanto a nuestra tasa de graduación de cuatro años: ¡84 por ciento! La tasa de graduación del Distrito se ha DUPLICADO desde el 2001: un increíble logro para nuestros estudiantes, nuestro Distrito y nuestra ciudad.
Más egresados se matriculan en la universidad

También me complació muchísimo compartir que el porcentaje de egresados que se han matriculado en una universidad ha aumentado significativamente, por casi 50 por ciento, desde el 2004. Hoy día, unos dos de cada tres estudiantes —específicamente, el 65.2 por ciento— se matriculan en la universidad: hace unos veinte años, este número era 43.5 por ciento.
Récord de financiamiento obtenido por becas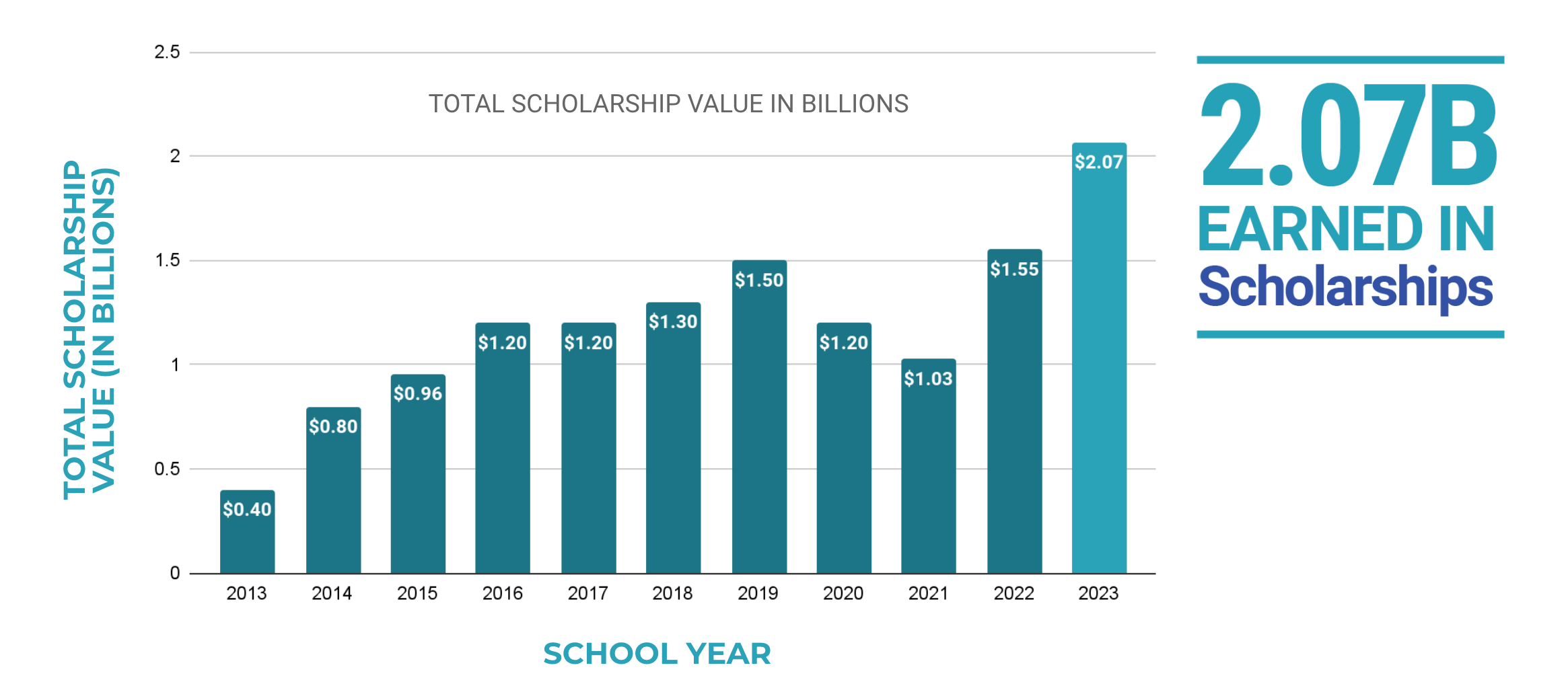 A medida que aumenta el número de egresados que se matricula en la universidad, también obtienen más financiamiento, en forma de becas, que nunca antes. Nuestra clase graduanda del 2023 obtuvo una altísima cantidad de $2.07 mil millones en becas, que ayudaron a aliviar la carga económica que conlleva la educación postsecundaria.
La segunda tasa más baja de abandono escolar en los registros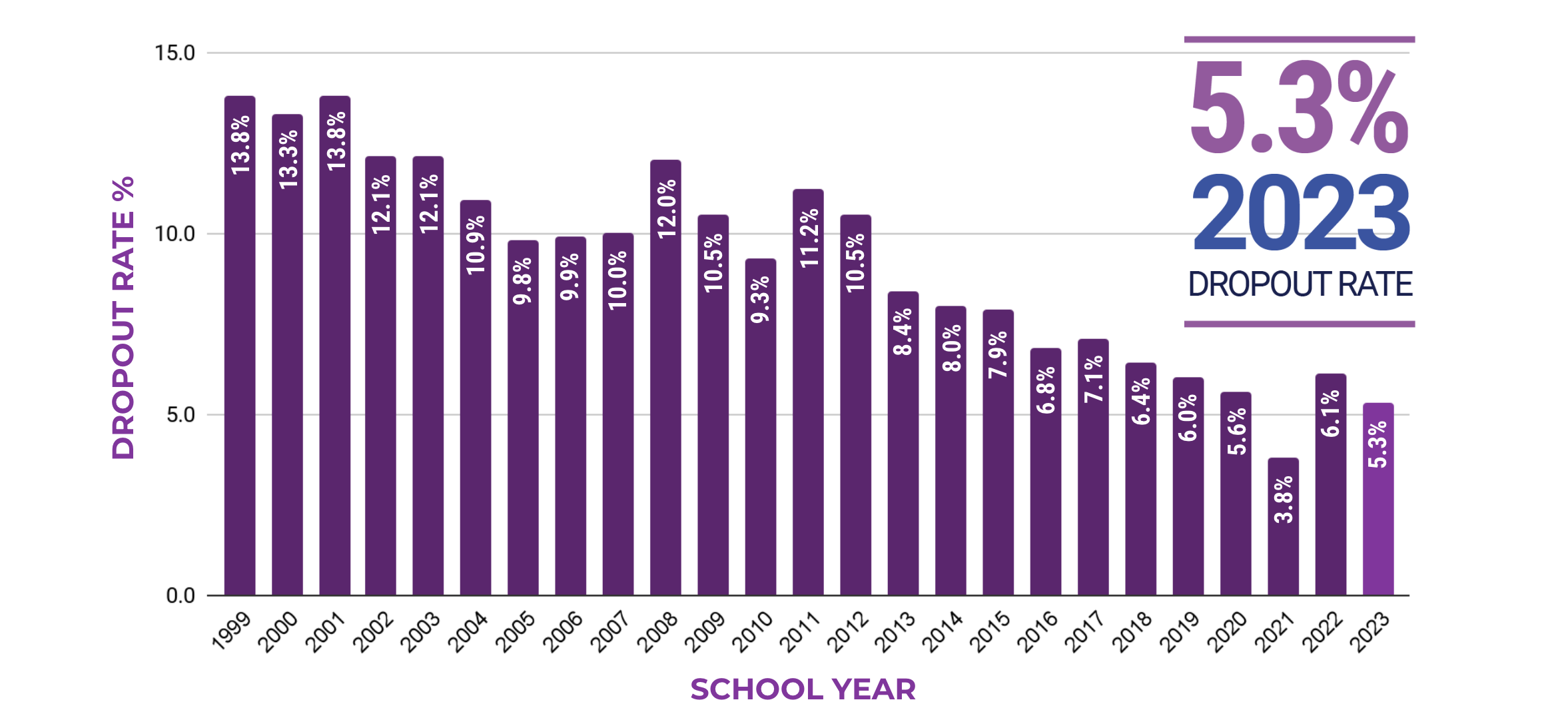 A medida que han subido las tasas de graduación, matrícula universitaria, y becas, las tasas de abandono escolar han caído. Nuestra tasa de abandono escolar de 5.3 por ciento es la segunda más baja en nuestros registros, lo que indica que más estudiantes están permaneciendo en la escuela, aprendiendo, creciendo y floreciendo.
Casi la mitad de los egresados de las CPS obtienen credenciales universitarias o profesionales en la escuela secundaria

Finalmente, me complace compartir que casi la mitad de todos los egresados de las CPS dejan al Distrito con más que un diploma: el 49.1 por ciento de la clase graduanda del 2023 obtuvo al menos una credencial profesional o universitaria mientras estudiaban en la escuela secundaria. Los estudiantes de las CPS pueden obtener créditos universitarios o profesionales gracias a una variedad de programas como Advanced Placement (AP), Bachillerato Internacional (IB, según sus siglas en inglés), programas de doble crédito o doble matrícula, JROTC, educación profesional y técnica (CTE, según sus siglas en inglés) y el Sello de Alfabetismo Doble.
Celebración en la Escuela Secundaria Dyett, con el secretario de Educación de los Estados Unidos Miguel Cardona, el alcalde de Chicago Brandon Johnson y egresados de las CPS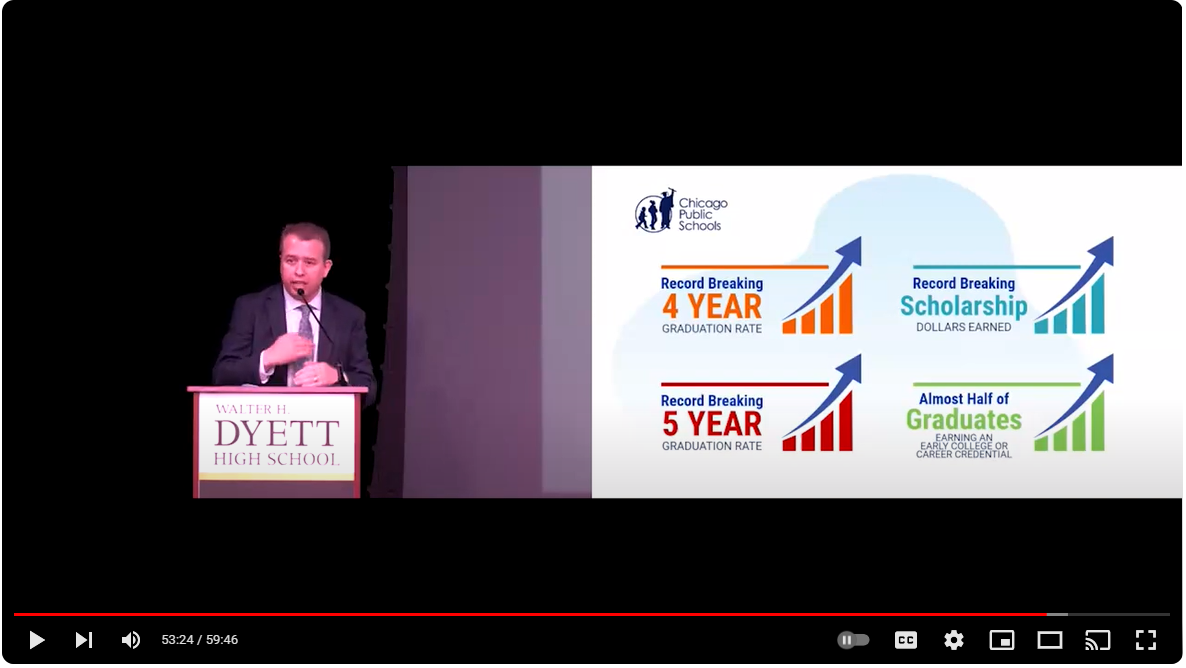 Me complació compartir estas emocionantes noticias en la Escuela Secundaria Walter H. Dyett, en el lado sur de Chicago. Pueden ver el video del evento completo en nuestro canal de YouTube aquí.
El evento incluyó una visita virtual del secretario de Educación de los Estados Unidos, Miguel Cardona, quien elogió a las CPS por su fuerte recuperación académica tras la pandemia de COVID-19 y su tremendo crecimiento en logros en la escuela secundaria y postsecundarios. Hagan clic aquí para ver los comentarios del secretario.
También me alegró estar con el alcalde Brandon Johnson y otros líderes comunitarios y del Distrito, que se reunieron para celebrar el éxito de nuestros estudiantes. Hagan clic aquí para ver los comentarios del alcalde.
Finalmente, se nos unieron cuatro egresados de las CPS, que compartieron historias sobre cómo sus experiencias con los programas IB, CTE y de doble crédito los ayudaron a prepararse para el éxito universitario y profesional. Hagan clic aquí para ver los comentarios de los egresados de las CPS.
Nuestro recorrido
Estos impresionantes logros reflejan, primero y principalmente, la ardua labor de nuestros estudiantes, y el impulso, la dedicación y la creatividad de nuestros talentosos maestros, consejeros y otro personal escolar. También se deben a las inversiones intencionales que han hecho las CPS para respaldar a los estudiantes mientras exploran, se preparan, e inician sus planes postsecundarios. Estas inversiones incluyen:
La expansión del acceso equitativo a cursos AP, programas de IB y, oportunidades de matrícula o crédito doble y CTE.
Aumentos en la consejería y el apoyo ofrecidos a los estudiantes, gracias a nuestros consejeros escolares, entrenadores universitarios y profesionales, y navegadores postsecundarios, cuyos números continúan creciendo.
Exposición a oportunidades de aprendizaje profesional por medio de una red en aumento de colaboraciones industriales y comunitarias.
Cursos transicionales de inglés y matemáticas para ayudar a preparar a los estudiantes para el rigor de los cursos universitarios.
Involucramiento continuo después de la graduación de escuela secundaria, por medio de programas como nuestra Iniciativa de Apoyo a Egresados, que le brinda a nuestros egresados consejería para mantenerlos bien encaminados, y la Iniciativa College Compact, que reúne a las CPS con instituciones universitarias para que juntas colaboren para brindar resultados más equitativos a nuestros estudiantes.
Hacia adelante con propósito
Aunque nos emocionan mucho los logros de nuestros estudiantes, sabemos que este no es el final. Todavía queda mucho que hacer, especialmente cuando se trata de eliminar las brechas académicas que aún enfrentan nuestros estudiantes negros y morenos. Esto incluirá nuestra colaboración continua con Equal Opportunity Schools, una organización sin fines de lucro que trabaja para aumentar la equidad en la matriculación en programas que brindan credenciales preuniversitarios y profesionales, y la expansión de recorridos adicionales que pueden ayudar a nuestros estudiantes a alcanzar el éxito universitario o profesional.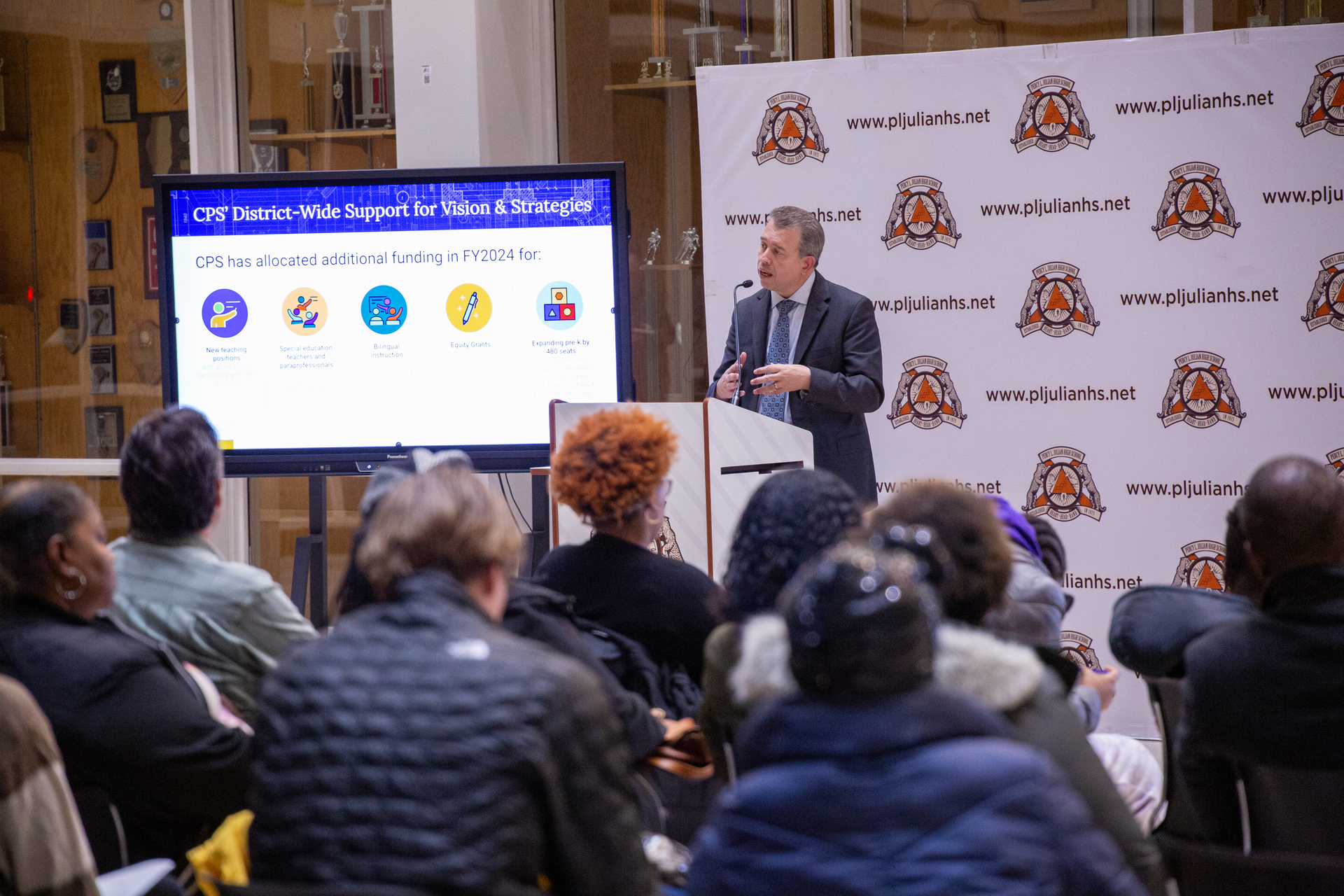 Nuestro Distrito actualmente tiene unos excelentes cimientos, pero no podemos construir el futuro solos. Necesitamos las voces de nuestra comunidad para desarrollar un plan que nos impulse hacia adelante, especialmente a medida que comenzamos las discusiones sobre nuestro próximo plan estratégico.
Durante los siguientes dos meses, las CPS llevarán a cabo más de veinte oportunidades para que las familias, los educadores y los colaboradores comunitarios aprendan más del distrito y compartan sus ideas, que las CPS podrá utilizar para tomar decisiones críticas en el futuro.
Mesas redondas comunitarias sobre el presupuesto: Durante las próximas dos semanas, llevaremos a cabo cinco mesas redondas para brindar información importante sobre el financiamiento de nuestras escuelas y darle la oportunidad a todos en nuestra familia escolar la oportunidad de compartir sus opiniones sobre las prioridades que deseen ver financiadas. Inscríbase a una de estas sesiones aquí. Las mesas redondas ofrecerán interpretación en vivo a español y ASL.
Mesas redondas comunitarias sobre las instalaciones: Desde noviembre hasta enero, las CPS llevarán a cabo diecisiete mesas redondas, específicas a varios barrios, sobre nuestras instalaciones escolares. Las familias y el personal podrán colaborar y compartir sus ideas sobre las maneras en que el Distrito debería priorizar las reparaciones, los proyectos de construcción y las inversiones generales en nuestros edificios escolares. Vean el programa entero en el sitio web de las CPS para encontrar una sesión en su área (también puede unirse a nuestra mesa redonda virtual). Inscríbase a una de las sesiones aquí. Las mesas redondas ofrecerán interpretación en vivo a español y ASL.
Animo a todas las familias, personal y colaboradores comunitarios a asistir a una de estas sesiones de participación para que puedan brindar sus voces a esta importante labor, y nos ayuden a poner en pie un plan para mantener a nuestro Distrito en buen camino.
Atentamente,
Pedro Martínez
Director ejecutivo
Escuelas Públicas de Chicago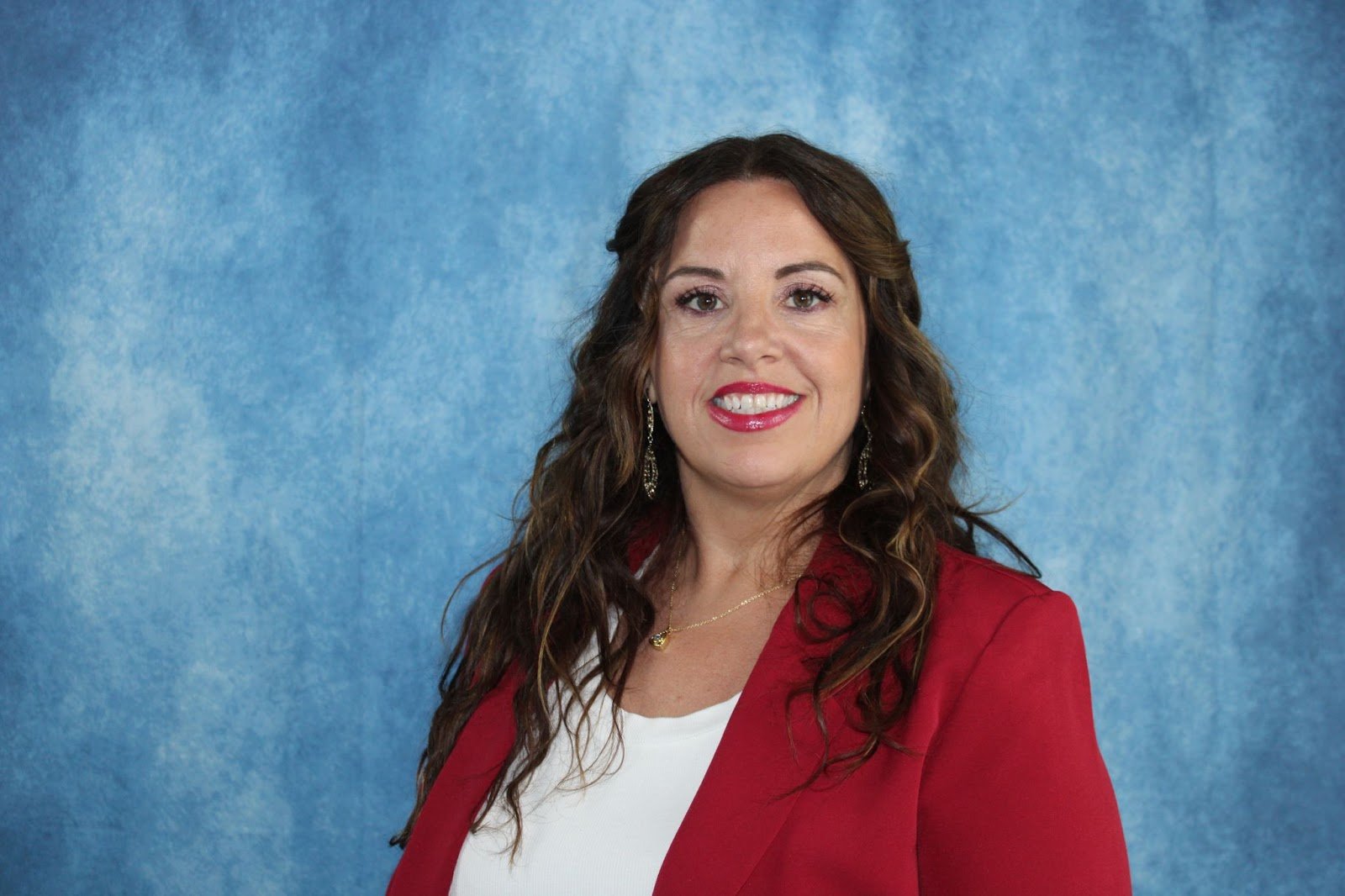 Cinco preguntas es una serie que resalta a algunos de los muchos miembros de la comunidad de las CPS que van más allá por nuestras escuelas.
Esta semana nos complace presentar a Dawn Ramos, directora de la Escuela Secundaria Edward Tilden Career Academy. La directora Ramos es mejor conocida por su enfoque en los estudiantes y la comunidad, y también ha sido reconocida como una de las directoras "game changers" de este año.
La directora Ramos indica que su "receta secreta" es el humanizar la experiencia educativa para todos los estudiantes y el personal asegurando que las personas se sientan acogidas, creando un ambiente donde todos pueden ser agentes de sus vidas, y desafiando sistemas y creencias para hacer lo correcto por los niños.
¿Cómo ha impactado a tu labor como líder escolar tu experiencia como antigua estudiante de las CPS?
Mi experiencia dictamina como dirijo y trabajo para desarrollar vínculos en mi comunidad escolar. He desarrollado muchos vínculos con estudiantes, pero muy pocos con la mayoría de adultos en mi entorno. Quiero que los estudiantes de Tilden sepan que me importan mucho y que los veo como individuos. He visto directamente las diferencias que existen entre las etiquetas que se les da a las escuelas, y por lo tanto lucho para asegurar que mis estudiantes y personal sientan orgullo y pertenencia que vayan más allá de la etiqueta de una escuela.
Lea más de nuestra entrevista a la directora Ramos aquí.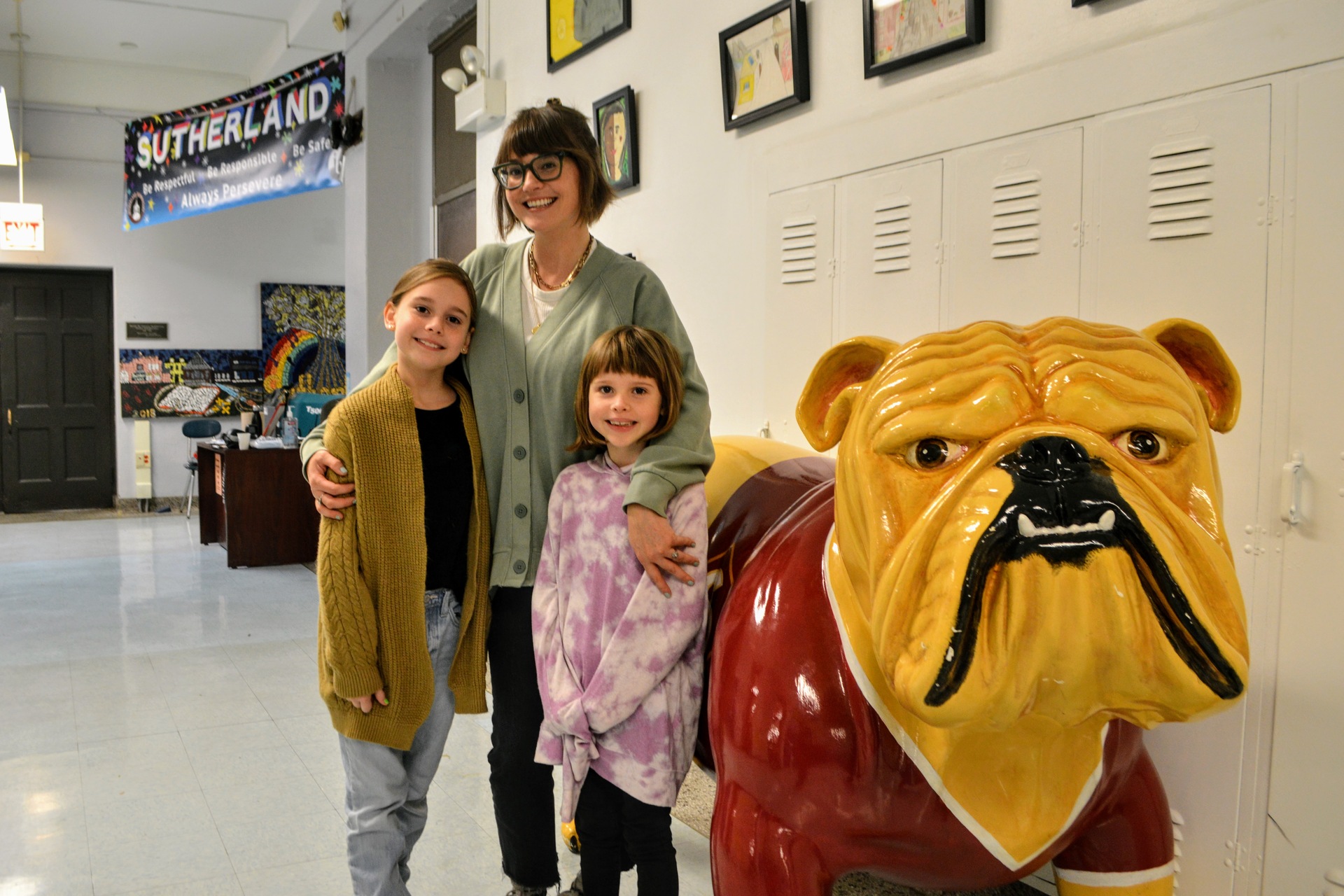 Personal y estudiantes destacados
Estamos destacando esta semana a los educadores de las CPS cuyos niños asisten a la misma escuela donde ellos enseñan. En la Escuela Primaria Sutherland, la maestra de segundo grado Tess Haskins tiene un vínculo especial con la escuela: ella misma asistió a Sutherland a partir del sexto grado. Ahora, sus hijas Louise y Cece asisten a la escuela. La diversidad que abraza Sutherland fue una de las razones por las que Tess quería que ellas asistieran a la escuela.
A unas pocas millas al sureste de Sutherland, la Academia Colemon tiene, en su personal, personas fantásticas como la Sra. Fox y la Sra. Jackson. Las dos mujeres tienen, entre ambas, tres niños que actualmente asisten a Colemon. Ambas han llegado a conocer a sus colegas y aprecian el esmero con el que cuidan a sus niños. Este año, ya que sus niños todos disfrutan de las matemáticas y la ciencia, ambas esperan trabajar de cerca con sus compañeros educadores para desarrollar su interés en la lectura.
Un vistazo al Distrito
¡Dé una mirada a algunos de los eventos más destacados en las escuelas del Distrito!
La Academia Primaria Virtual, localizada en Little Italy, celebró la temporada de Halloween con su segundo Spooky Extravaganza anual. La comunidad escolar disfrutó una tarde de juegos y actividades divertidos, disfraces, y delicias.
En la Escuela Primaria Morrill, en el barrio Chicago Lawn, los estudiantes crearon un resumen en video de las actividades del Mes de la Herencia Hispana de la escuela, que incluyeron presentaciones musicales de la banda estudiantil de la Escuela Secundaria North-Grand. ¡Vean el video aquí!
La Escuela Primaria McPherson, en Ravenswood, celebró el evento Enchanted Enrichment Trunk or Treat. En éste, estudiantes de prekínder a quinto grado recogieron dulces en carros decorados y participaron de varias actividades, como la creación de baba artificial o slime y lecciones sobre "plantas encantadas" con la ayuda de voluntarios del año intermedio del programa Bachillerato Internacional, compuesto de estudiantes de sexto a octavo grado.
Nichole Madera, entrenadora principal de la Escuela Primaria Robinson, en Oakland, representó recientemente a las CPS en el programa Wheel of Fortune, donde obtuvo el premio principal.
¡En la Escuela Primaria Coonley, en el barrio North-Center, la comunidad escolar celebró la cultura hispana y el Día de los Muertos con una presentación de flamenco, artesanías, el juego de lotería, un altar y un camión de comida!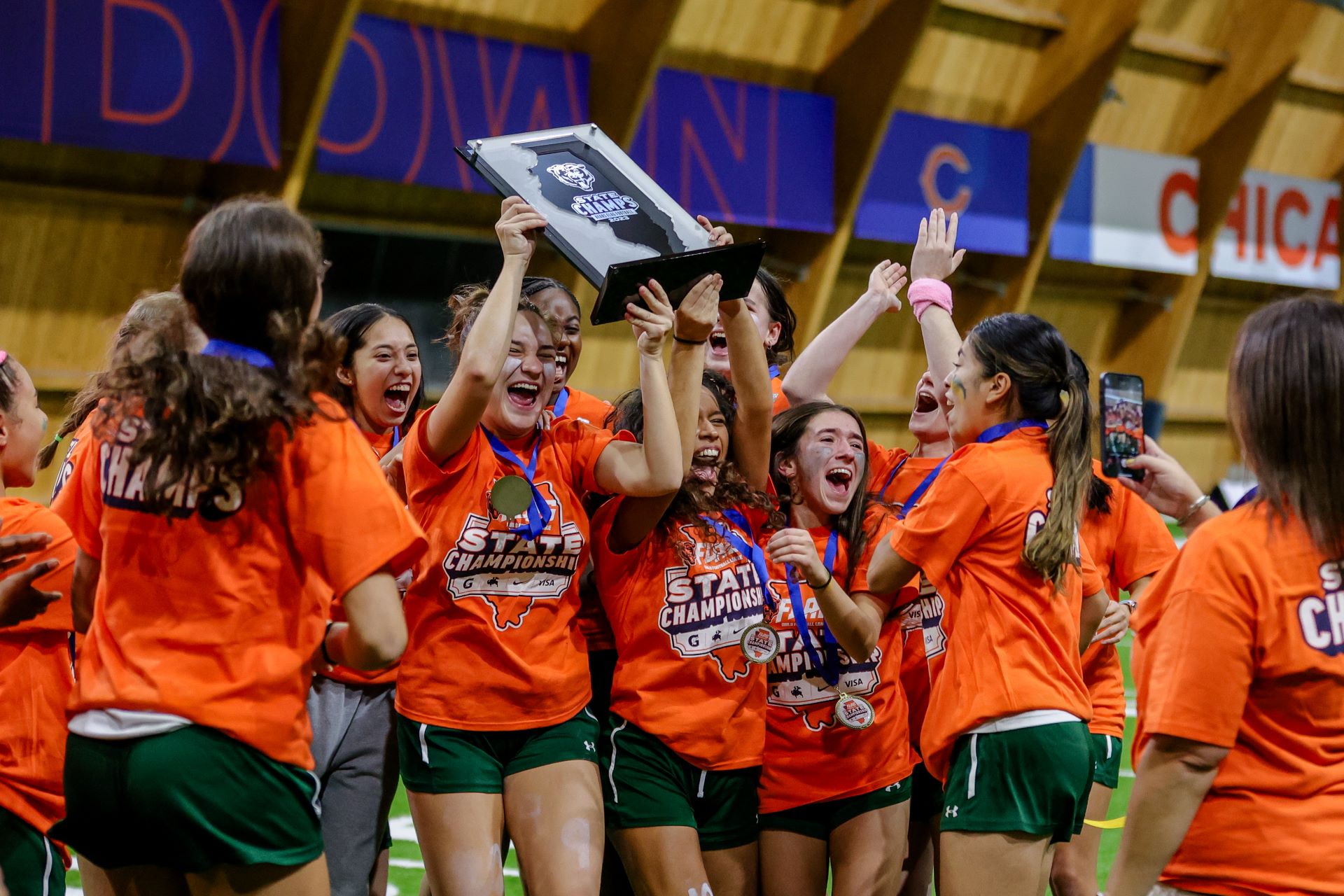 Dos escuelas de las CPS se enfrentan en el campeonato de fútbol americano de bandera
La temporada de 2023 de fútbol americano de bandera femenino concluyó con un desempeño fantástico de parte de las CPS, en la segunda edición anual de la Serie Estatal Chicago Bears. Las escuelas Lane Tech y Phillips, tras competir en el campeonato de la Liga Pública de Chicago —que terminó con la victoria de Lane Tech— continuaron su temporada en la Serie Estatal Chicago Bears, compitiendo con otros equipos del estado, incluyendo el equipo campeón defensor de Willowbrook, en los suburbios. Phillips y Lane Tech representaron orgullosamente a las CPS, y ambos equipos se enfrentaron en una partida de revancha en las finales estatales. Felicitamos a Lane Tech por obtener el campeonato estatal, y a Philips por su posición como finalista. Aunque los Bears han coronado a los últimos dos campeones estatales, la meta es que el fútbol de banderas se convierta, en el 2024, parte oficial de la Illinois High School Association, que rige los deportes escolares a nivel de estado.
Se acerca el 9 de noviembre, el último día del plazo de solicitud por GoCPS
GoCPS es el portal cibernético del Distrito diseñado para que las familias puedan explorar las opciones educativas para sus niños. Todos los estudiantes tienen garantizado un espacio en el programa de educación general en sus escuelas de barrio respectivas; sin embargo, muchas familias podrán estar interesadas en oportunidades de programas adicionales, y el Distrito les exhorta explorar GoCPS durante el plazo de solicitud, que termina el 9 de noviembre de 2023 a las 5 p. m.
Las familias con estudiantes que entren a programas de kínder a noveno grado en el año escolar 2024-25 pueden solicitar entrada a una amplia variedad de programas académicos. Puede ver una lista completa de los programas disponibles en cps.edu/gocps.
Entre nuestras escuelas de barrio y nuestros programas especializados en CTIM, las artes, el bilingüismo y mucho más, las CPS tienen programas para satisfacer las necesidades únicas de cada estudiante. Explore estas opciones y solicite en cps.edu/gocps.
Disponibles por medio de las CPS las vacunas actualizadas contra el COVID-19 y la influenza
Las CPS ahora ofrecen las vacunas actualizadas contra la influenza y el COVID-19, junto a las vacunas requeridas para la escuela; éstas serán distribuidas por medio de eventos de vacunación y centros de salud para estudiantes. Como hemos recibido una cantidad limitada de vacunas, estamos dando prioridad a los estudiantes que no tengan seguro médico, tienen seguro médico insuficiente u obtienen su seguro por medio de Medicaid; estas vacunas serán libres de costo. Las familias pueden visitar cps.edu/vaccines para obtener más información y programar citas.
Debido a que nuestra provisión de vacunas es limitada, actualmente nos estamos enfocando solamente en nuestros estudiantes. Les recomendamos al personal, los padres o tutores legales que no tengan seguro médico, tengan seguro insuficiente u obtengan cobertura por medio de Medicaid obtener una vacuna por medio de un centro de salud federalmente calificado, o una clínica o evento de vacunación administrado por la ciudad de Chicago. Puede encontrar una lista de estos eventos locales en chicago.gov/covid. También exhortamos a las familias y el personal con seguros médicos privados que contacten a sus proveedores de atención médica para preguntar sobre estas vacunas.
Para detalles completos sobre las vacunas contra el COVID, la influenza y otras enfermedades, por favor visite cps.edu/vaccines.
Información importante para familias recibiendo beneficios de Medicaid
Todas las familias que reciban beneficios de Medicaid deben renovarlos anualmente. El estado de Illinois actualmente está enviando por correo, de manera continua, versiones físicas de sus formularios de renovación. El sobre que reciba será así:

Una vez reciba su formulario de renovación, por favor llénelo y devuélvalo lo más pronto posible para asegurar que su familia no pierda su cobertura de Medicaid.
También puede renovar sus beneficios en línea. Visite abe.illinois.gov y haga clic en "Administrar Mi Caso" para entrar a su cuenta. Además, podrá encontrar en cps.edu/medicaid un guía de paso a paso sobre cómo renovar sus beneficios por correo postal o electrónicamente.
Si necesita ayuda con este proceso, llame a la línea directa Healthy CPS al 773-553-5437 o llene un formulario de solicitud de asistencia, y un coordinador de la Oficina de Salud y Bienestar Estudiantiles de las CPS felizmente le asistirá.
Fechas importantes
Para más eventos próximos en el Distrito, visite cps.edu/calendar.
Viernes, 10 de noviembre: Las escuelas y oficinas de las CPS estarán cerradas en celebración del Día de los Veteranos; los estudiantes de las CPS no tendrán clases.
Lunes, 20 de noviembre a viernes, 24 de noviembre: las escuelas de las CPS estarán cerradas en celebración de las festividades de Acción de Gracias; los estudiantes de las CPS no tendrán clases.